AWARD WINNERS : IN THEIR WORDS
Association Annual Award Winners : In Their Words.
Last Spring the International ACAC membership placed their votes for three awards that honor leaders in our field. These include the Distinguished Service Award, the Rising Star Award, and the Peter Hauet Lifetime Achievement Award. This year the awards went to some inspiring individuals who have made big contributions to IACAC over the years.


Rhonda Leshman from the YK Pao School in Shanghai was selected for the International ACAC Rising Star Award. She said, "As a 23-year member of NACAC and the WACAC and International ACAC affiliates, I couldn't be more surprised to receive the Rising Star Award since I often feel more like an old, falling star! Working abroad in China for the past two years has been tremendously challenging and rewarding. Being active in International ACAC and attending summer conferences has expanded my network as well as my knowledge of our profession. Planning International ACAC's first Regional Institute in Shanghai was a great privilege and the efforts of the association are still reverberating throughout the region. I will continue to encourage college counsellors and educational professionals in China to become International ACAC members with the knowledge of the growth and rewards membership brings. I am humbled and deeply honoured to receive this recognition." Congratulations to Rhonda!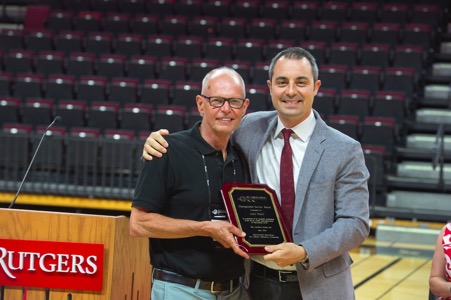 This year's Distinguished Service Award went to former president and long time member Jack Shull from the Taipei European School. "My wife and I never 'dreamed' when we took our first overseas positions that we would make international education our careers. Now 34 years later living in six different countries (Norway, Belgium, Thailand, Egypt, China and Taiwan) and working in six different schools (American, international and British) it is time to move on to semi-retirement. One of the highlights of my overseas career, as a counselor and now for the last six years a university counselor, is my involvement with International ACAC. I attended the first conference at George Washington University and never imagined that the organization would be so much a part of my life and my career. People continually ask me how I know so many counselors and college representatives around the world. The answer is easy. Through my involvement with International ACAC, my time as president of OACAC, my involvement with NACAC and on the International ACAC board. Also attending and presenting at the summer International ACAC conferences, attending and presenting at NACAC, attending and presenting at the Council of International Schools university forum and of course I have been doing this for more than a few years. If I have one piece of advice to those beginning their overseas careers in counseling and international admissions is 'get involved with International ACAC' and you will grow both personally and professionally."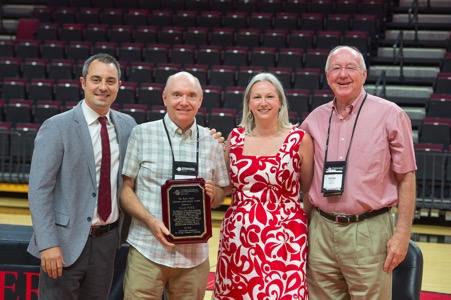 Finally, this year's Peter Hauet Lifetime Achievement Award went to another former president and longtime member, Dale Ford. He said, "I was humbled and honored to receive the Peter Hauet Lifetime Achievement award. Peter was one of the first people who offered to lend me a hand when I arrived in Japan as a new counselor in 1990. Over the years many wonderful colleagues played a part in helping Overseas (and now International) ACAC grow from a fledgling organization to the dynamic association it has become."

Congratulations to this year's award winners. 2017 requests for nominations will go out in the Spring, and awards will be presented at the summer conference.
Share this post: