*Deadline Extended*
2023-24 Mentee Application
*Closed for 2023-24*
 Read the March/April 2023 Newsletter here.
Read Previous Newsletters here.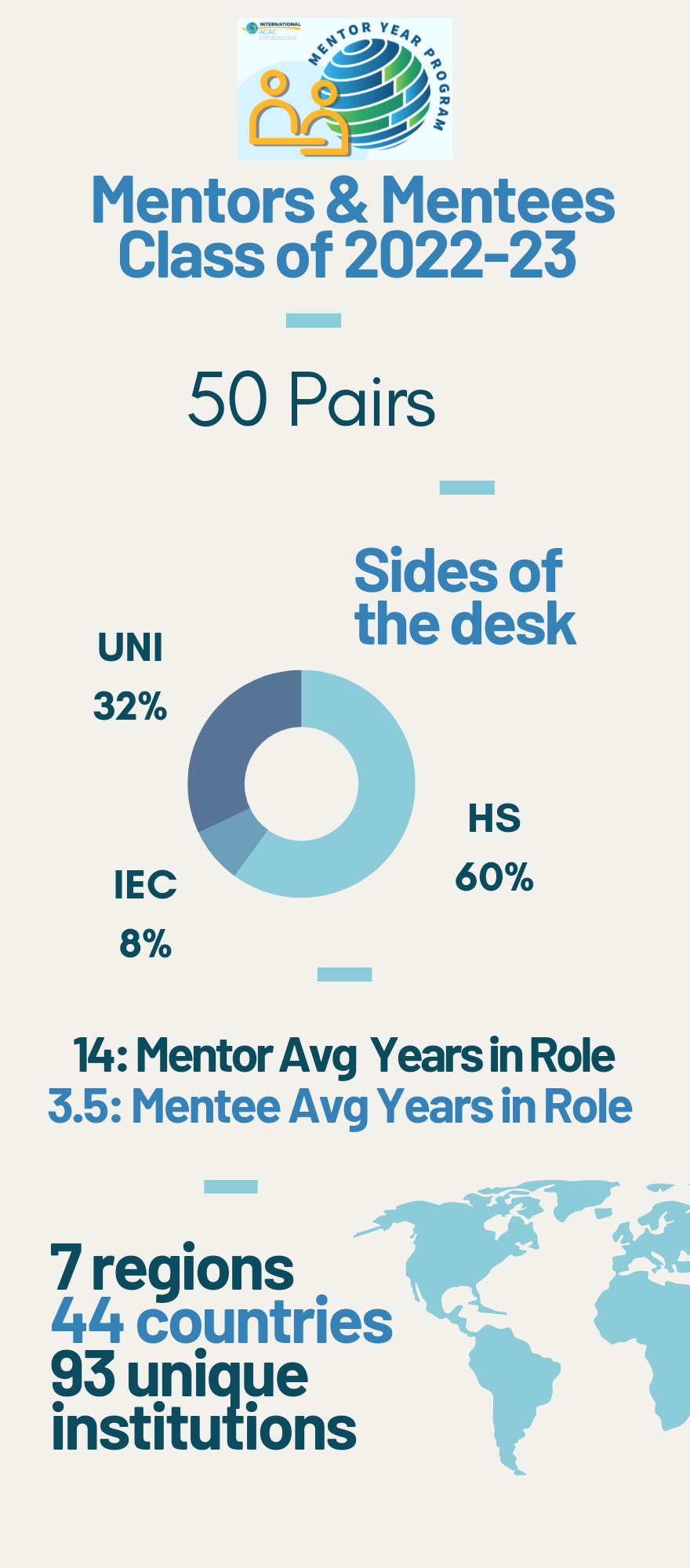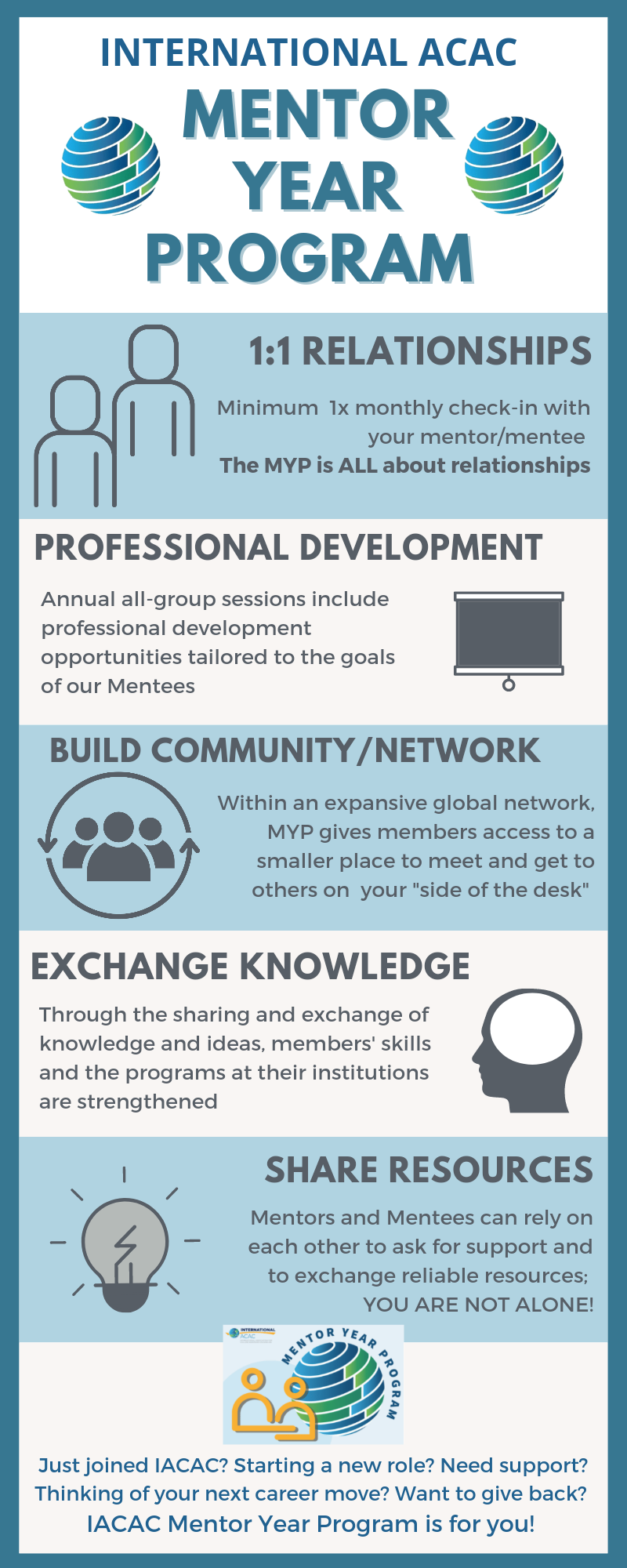 Mentor Year Program Infomercial
---
About
The mission of the Mentor Year Program is to provide a formal mentorship program where members build relationships with members in support of their professional development.
The International ACAC Mentor Year Program provides a small, familiar community for professionals seeking growth through mentorship. Through 1:1 Mentee/Mentor relationships, regular participant meetings, and monthly committee updates, Mentees will build their skill-set, knowledge base, and resources for their own personal and professional development and for the benefit of the student populations that they serve.
Mentor Year Program Committee
Member
Institution

Wilson Lee, Co-Chair

Singapore American School

Malissa Takacs, Co-Chair

Tanglin Trust School, Singapore

Dan Seneker

Bishop's University

Skyler

 Bentley Hall

IEC, Bentley Hall Consulting
---
Program Requirements/Information
Required Orientation Sessions - one for Mentors (late Aug.), one for Mentees (late Aug.), and one for the All Group Kick-Off (early Sept.).

1:1 Mentor/Mentee Relationship - requires at least 1x monthly (ideally 2x) check-ins (can be accomplished by using various modes of communication).

All group meetings with Mentors, Mentees, and Committee) will be held in September, November, February, and June.

Mentors and Mentees will also receive a monthly email from the Committee - providing timely resources/topics, drawing attention to upcoming International ACAC events/webinars, and providing well-being check-ins. 

Mentees are suggested to have 0 - 3 years of experience in the professional industry and a member of International ACAC for 1+ year.

Mentors are suggested to have 5+ years of experience in the profession and a member of International ACAC for 2+ years.
---
Program Roles 
Please find the Mentor and Mentee roles here.
---
Application Process 

Mentors and Mentees are encouraged to apply to the annual Mentor Year Program by following the listed application dates and deadlines. We aim to equally represent parts of the globe/time zones as well as enlist an equal number of participants from secondary schools, universities and independent educational consultants.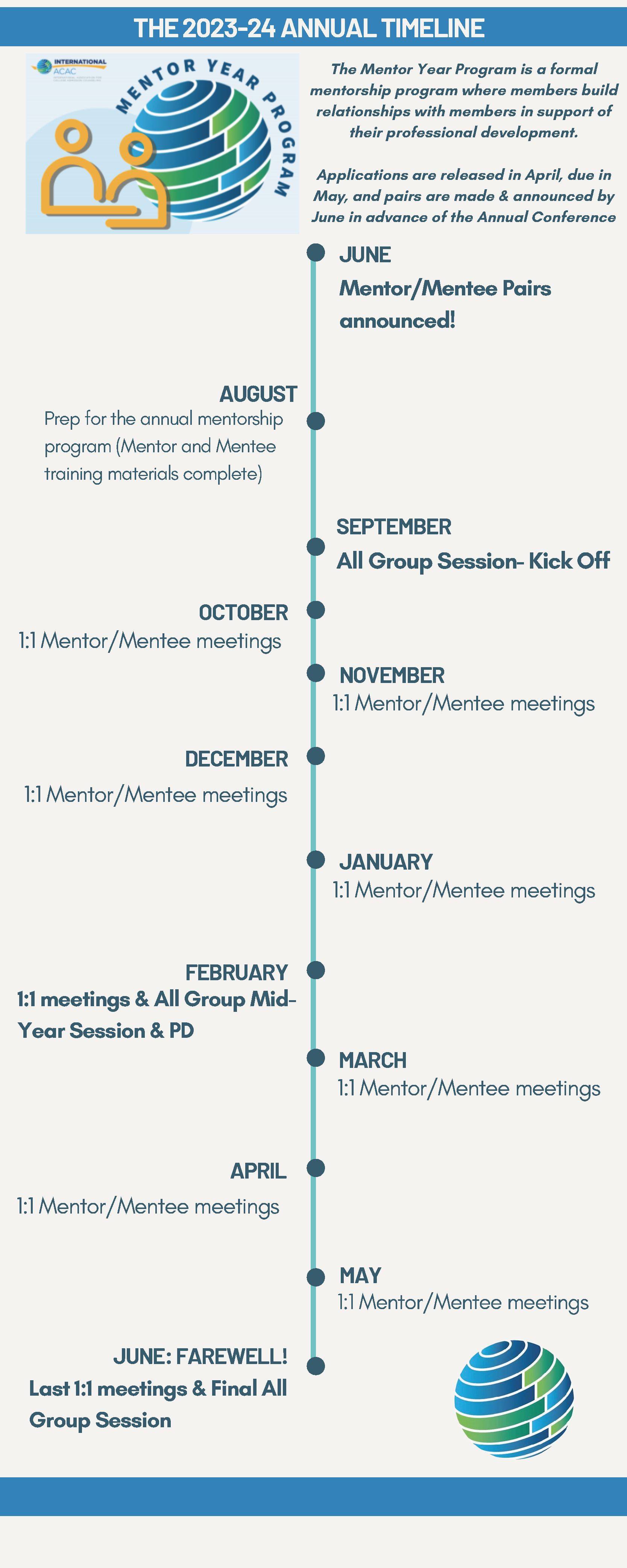 ---
Applications
Deadline has been extended.
2023-24 Mentee Application
Application closed on May 19, 2023.
---
Previous Newsletters
Updated March 2023
---
If you have any questions, please contact the Mentor Year Program Committee at [email protected]