AMERICAN COLLEGE OF SOFIA
SOFIA, BULGARIA
This Regional Institute is aimed at connecting secondary school counselors within the European Region with university admission advising tools and networks of universities around the world. It is also intended for universities around the world who want to build connections and deepen their understanding of students in the European market.   
Through in-depth and focused conversations and presentations, participants will gain a greater understanding of the educational process, admission requirements, fees and scholarships, and the challenges and opportunities students face when applying to a university outside of Europe.   
Europe 
2019
WHY ATTEND THE INTERNATIONAL ACAC EUROPE REGIONAL INSTITUTE? 
The Regional Institute will allow for two days of concentrated networking, educational sessions, and conversations that are specific to European students.
 
Representatives from universities and high schools, including admissions officers, principals, counselors, and teachers are encouraged to attend. All levels of experience are welcome. International ACAC membership is required.


"International ACAC is the leading professional network dedicated to supporting schools in understanding undergraduate admissions at universities in the USA, Canada, Europe, and beyond." 
– Paul Teulon, King's College London, Director of Admissions and Registry Services  
---
Institute Location
American College of Sofia
Sofia - Bulgaria
Approximately 20 minutes from Sofia International Airport 
The American College of Sofia is one of the oldest American educational institutions outside the United States. The goals of the College are: to provide Bulgarian youth with the best possible education, including fluency in English, and to instill in them high standards of morality and integrity. In the current school year, it has 744 students, 20 of whom are internationals. Since 1997, the year the first class graduated from the College, approximately 1,900 students have earned American College diplomas.  The College has regained the reputation it held in the 1930s as one of the premier secondary schools in the Balkans and its graduates are now eagerly recruited by prestigious universities in the United States, the United Kingdom, and throughout Europe. In October, 2010, the American College of Sofia celebrated the 150th anniversary of its founding.
The school is a member of International ACAC.
---
Registered Attendee Lists
Registered University Attendees (As of April 25, 2019)
Registered High School and Individual Attendees (As of April 25, 2019)
Registered Organizational Attendees (As of April 25, 2019)
Colleges and Universities Registered for the College Fair (As of April 25, 2019)
---
Cost

Regional Institute fees will be $175 for High School and Individual Members and $190 for College and University Members and Organizational Members.
The institute will offer scholarship opportunities for secondary school and independent counselors who could not otherwise afford to attend. 
Apply HERE for a Regional Institute Grant. 
---
Registration
Is now closed.
---
Housing Options
Room blocks have been negotiated at nearby internationally recognized hotels as there will be no on-campus housing. 
1. Sofia Hotel Balkan (Marriott): Classic single or double room, buffet breakfast included, for €120/night.
2. Hilton: Single room, breakfast included, for €120/night.
3. Intercontinental: Single room, breakfast included, for €190/night.
4. Holiday Inn: (This property is walking distance to the American College of Sofia.) The rate is €70/night.
---
Schedule
Updated February 19, 2019. (Subject to change.)

Thursday, May 2nd





Friday, May 3rd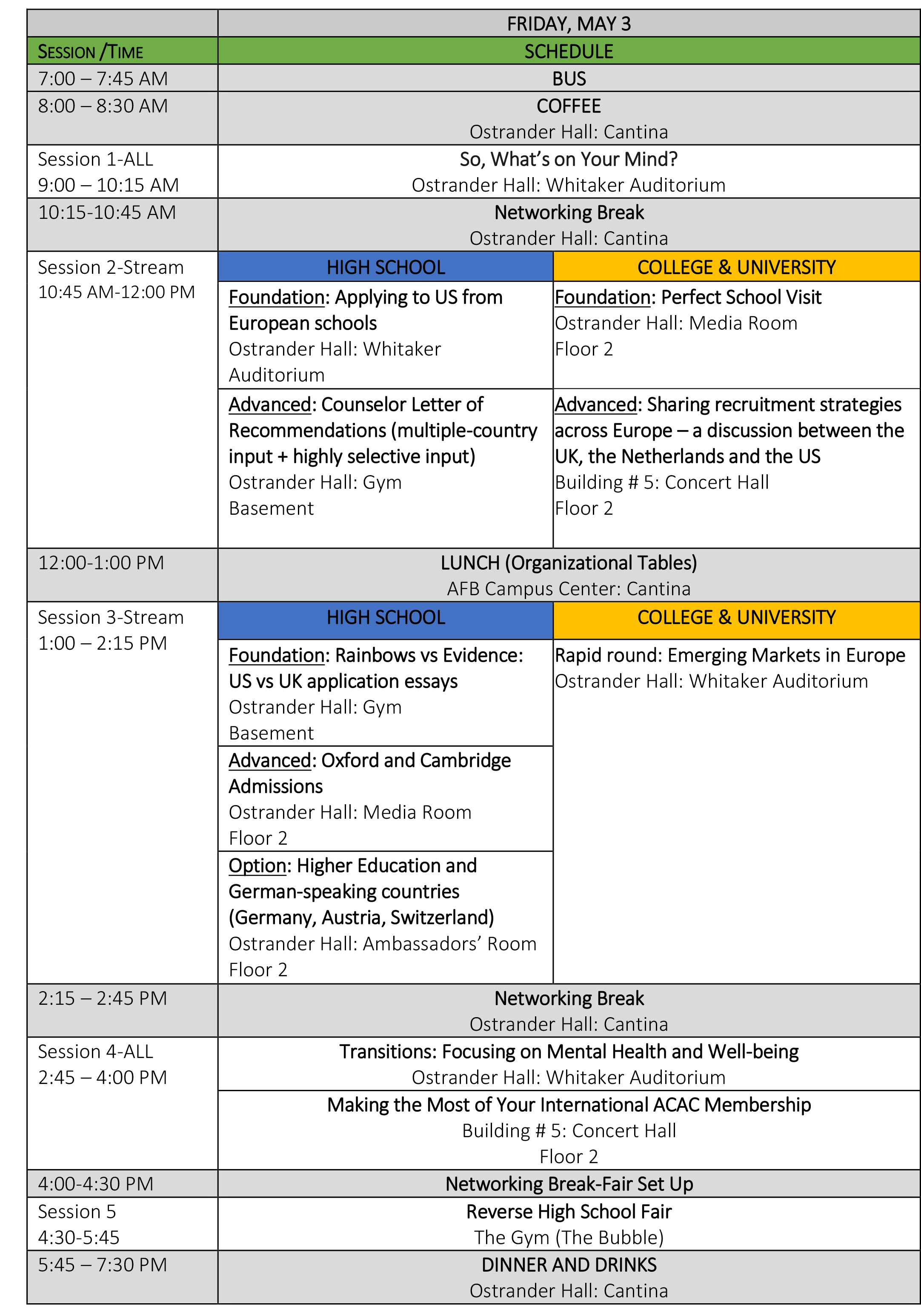 Saturday, May 4th
---
Additional questions about the Regional Institute?
Click here to contact us!