Association Annual Award Winners : In Their Words.
Last Spring the International ACAC board placed their votes for three awards that honor leaders in our field. These include the Distinguished Service Award, the Rising Star Award, and the Peter Hauet Lifetime Achievement Award. This year the awards went to some inspiring individuals who have made big contributions to International ACAC over the years.
Ed Tourle from the Pestalozzi International Village Trust in the United Kingdom was selected for the International ACAC Rising Star Award. He said, "I have been a college admissions counsellor for three years now, having previously worked as a Primary school teacher. I represent 40 international students from nine countries. I was privileged to receive the International ACAC Scholarship to attend the University of Oregon conference in 2015. Life has been a roller coaster since then. In terms of my own professional development as a college admissions counsellor, opportunities to up level my team and the delivery of support to my students, IACAC has been the gift that keeps on giving. I have met and worked with the most inspirational, kind and encouraging people in my professional career. I have discovered a role that fulfils me and drives me forward in ways I never expected. Following that first, transformative conference, I joined the Admissions Practice Committee for IACAC, gave presentations at regional institutes and was also invited to join the wonderful HALI Access Network, again with a committee role.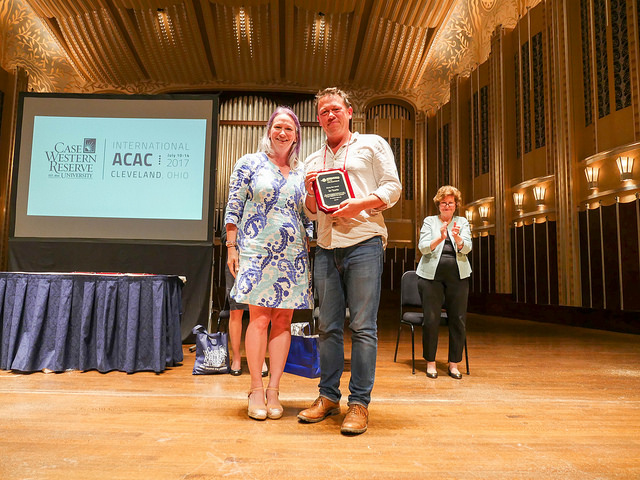 The technical refinement of school profiles and our advocacy as an office were enabled through excellent mentorship and advice from truly experienced colleagues. For me, above anything it is the people I am honoured to work with that means the most. To receive the Rising Star Award was entirely unexpected and to receive it alongside Joan Liu (Distinguished Service Recipient 2017) was just another level. She is the chief architect of my success and I cannot praise her universal commitment enough. Our organisation is vulnerable and the award creates a wave of momentum that IACAC has equipped me to deal with in a practical and productive way. Giving me the tools necessary and the profile to transform lives in vulnerable communities. It does not get better than that. Thank you IACAC for this enormous privilege that I will honour to the very best of my ability." Congratulations, Ed!